---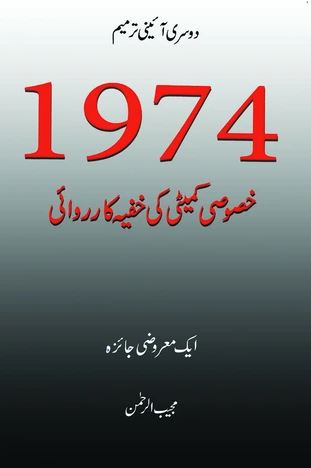 In-Camera Proceedings of the Special Committee - An Objective Study
Pakistan's National Assembly, by second constitutional amendment of 1974, declared Ahmadis 'Not-Muslim for the purposes of law and constitution'. A special committee of the whole house was constituted and a delegation of the Ahmadiyya Muslim Community headed by Hazrat Mirza Nasir Ahmad, Khalifatul Masih III, was required to appear before it. Hazrat Mirza Nasir Ahmad read out a memorandum before the special committee and the attorney general of Pakistan cross examines him for eleven days.
The in-camera proceedings were not published till 2010 when, under the orders of Lahore High Court, the veil of secrecy was lifted. The present work is an objective analysis of these proceedings. 
The author is a senior advocate of the Supreme Court of Pakistan well-versed with contemporary laws and Islamic Jurisprudence.